About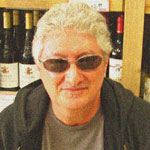 Growing up in an Italian-American household I thought of wine as something basic to life, as important to a good dinner as a crusty slice of bread or, at least on Sundays, the luscious cannoli from the neighborhood pastry shop.
At church, it came as no surprise to me that wine was associated with miracles. For I would see my father return home tired and weary from a hard day's work as a construction laborer, clean up, come to the table and be transformed as my mother passed him a plate of pasta while he filled a small glass tumbler from the gallon jug.
In an almost sacramental way, he would lift the glass, intone "salute," take a sip and smile. The weariness faded. Body and spirit refreshed, there was no man more content.
I also remember my mother recounting stories about the family vineyard in Italy. She took such delight in recalling how buyers would try to outbid each other for the wine that land produced, she seemed to be transported to those earlier times. I swear she grew younger before my very eyes.
Now, many years later but with those memories still echoing, I've decided to expand my appreciation of this ancient gift from the earth. The Web is my library. This blog is my notebook. Whatever interesting things I learn — everything from the latest reports of bargain vintages or a wine lover's essay to tips on tasting or the secrets of winemakers — I'lI share.
"Good wine," Henry James observed in A Little Tour In France, "is an inward emotion." Or as wine expert Kermit Lynch writes in Adventures on the Wine Route: "Wine is, above all, pleasure." Those quotes pretty well sum up my wine-blogging philosophy.
I don't accept payments or favors to write one way or the other. This blog is not affiliated with anyone or anything else. For better or worse, whatever I say in these pages is my own opinion.
I focus mostly on highly affordable wines because, well, that's what I can afford. No knock against the more expensive bottles I pass on the racks. But as even some of the world's top experts acknowledge, wine doesn't have to be pricey to be good.
Last but not least, many thanks to the WordPress community and all its contributors for creating such a great blogging environment — a thing of beauty.
— Sam Meddis, editor and publisher
My other Webs @