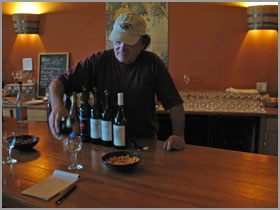 Virginia's Eastern Shore may not be the first place that comes to mind when you think about wineries. But it shouldn't be the last, as I discovered during a recent getaway to Chincoteague and the Assateague Island National Seashore, an area famed for wild ponies and pristine beaches, overflowing seafood and scenic bike rides.
Add Bloxom Winery to the list of attractions, if you have the slightest interest in wine. Not only for the opportunity to take a break from the sunbathing for an afternoon tasting (noon to 5 p.m., Wednesday to Sunday, from June to October) but also to chat with the owners about the unlikely journey that brought them to this peninsula's sleepy farmlands from the cityscape of New York.
Photos: Stills and slideshow of the tasting room and vineyard.
Map: A satellite's eye view of the vineyard and Eastern Shore.
Dubbed the "toast of Bloxom" by the local press, the lush six-acre vineyard and adjoining winery sit off a lonely gravel road, a welcoming change from the nondescript soy and corn fields that roll (uh, hold on—I've got to take a sip of this Bloxom Merlot—yum!—nice and dry, rich enough to make you feel a warm, satisfying glow amid the arduous demands of wine-blogging)…
Now, where was I? Oh, yeah—you have to wonder how in the world did a winery suddenly appear out of this virtual nowhere?
The answer starts off in the late '90s, when Robert Giardina, a Morocco-born home remodler who was fed up with the crummy grapes that were available from California for his homemade wine in the city, learned of a vineyard for sale in the region where he'd vacationed a long time before.
"It was insanity," Robert says. "I was just looking for a place to grow grapes."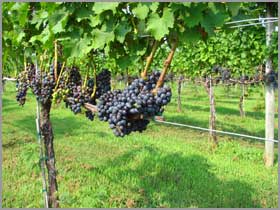 Being a pioneer wasn't easy. Many of the vines he imported from a California nursery had to be replaced a couple times, he says. His wife, Francesca, became pregnant (Angelica is five now and speaks the most delightful French). It became clear that another source of revenue had to be found. And thus was born the winery plan.
"I couldn't let this thing go," says Robert.
It seems like it was a good bet. Bloxom is producing 900, 12-bottle cases, and the Eastern Shore is achieving greater respect for wine growing. More wineries have sprouted up, with several now within the shore's Maryland and Virginia sectors—a testament to the favorable sandy soil and mild climatic conditions, with the Atlantic to the east and the Chesapeake Bay on the West lending a protective warmth to the vines' grip on the earth, according to Wines & Wines.
The result can be tasted—in this case, a bottle of lightly golden Bloxom Chardonnay (fresh, slightly oaky taste, with a whiff of green apples; $16 at the local wine shop) complimenting a takeout seafood feast from Bill's Restaurant in a hotel room overlooking Chincoteague Bay at sunset.
Think I'll be going back.
---
About this entry
You're currently reading an entry written by vinothekid
Published:

08.17.07 / 11pm
Category:
Tags: